The new Shattuck Hotel was the gathering spot for a group of eco-friendly folks and newly-designated Alameda County Green Businesses. More than a dozen authors of books about various aspects of sustainability were there to share their information, mingle with the like-minded and ideally, sell some books. I was there with colleagues from Berkeley Hills Realty as we accepted our Green Business plaque, officially welcoming us to the ever-growing family of local Green businesses. The recipients ranged from one-person operations (a professional organizer, a Green financial planner) to a seven-member team from Costco. I loved that there was a "wet cleaning" service in Fremont that cleans tailored clothes without noxious chemicals. There were restaurants, a landscaper, a print shop,  a kid's camp, and local downtown Berkeley destinations, Aurora Theatre and the new David Brower Center, as well as our venue that night, the newly-restored Shattuck Hotel.
All of these businesses had actually worked hard to get their certificate and twelve seconds of applause. From start to finish the process takes nearly a year. There's an extensive questionnaire to complete that informs the business what shade of green they are when they begin. All businesses are required to reduce energy consumption, adopt a purchasing policythat encourages recycled and recycling of materials. Water conservation and lighting retrofits are required. For restaurants the requirements are the toughest, carefully controlling the disposition of food wastes and the use of non-toxic cleaning products.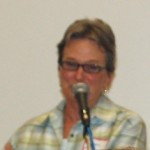 The presentation of awards was kicked off by a brief visit from Loni Hancock, Assembly woman for the 9th District. She was an early adaptor of green business practices, as are Alameda County businesses. Of 2000 in California, 400 of them are in our county.
"The health of our society depends on many, many small acts of sustainability," she commented. "Our generation is OK, and our children will be OK, but our grandchildren will not be OK," she said, unless we as a society adopt a Greener way of life.