For anyone looking for a view home with traditional charm, updated kitchen and bath, and a great location, I have a recommendation for you. Visit 2530 Edwards Avenue, in El Cerrito. A significant arched picture window frames beautiful views of Mt.Tamalpais and the Bay from the living room. The home has a stylish, urban chic aesthetic that should appeal to many buyers. Those who would love a view home in Berkeley will feel very much at home here—and will especially appreciate the value! One of my favorite pocket parks is right down the way; Poinsett Park is one of those great local secrets, a little unexpected treasure. And for more serious outdoor activities the Mira Vista Golf Course and Country Club is nearby, another under-appreciated gem of the region.
 This home has more to offer than the usual starter property: it has a third much-desired bedroom in addition to an extra-spacious living room with fireplace. The eat-in kitchen has been updated in cheerful blue tiles, combining with white cabinetry to create a crisp, clean effect. The updated bathroom features tasteful stone tiles and custom finishes. It's easy to imagine entertaining friends on the inviting stone patio.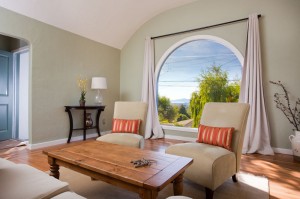 You can check out this home on Sunday, November 6, from 2-5 pm, or by appointment. It is listed by my colleague Parisa Samimi at McGuire Real Estate; offered at $435,000.