The first day of spring brought a bit of welcome rain to the East Bay, but nothing seems able to dampen our current early spring real estate market!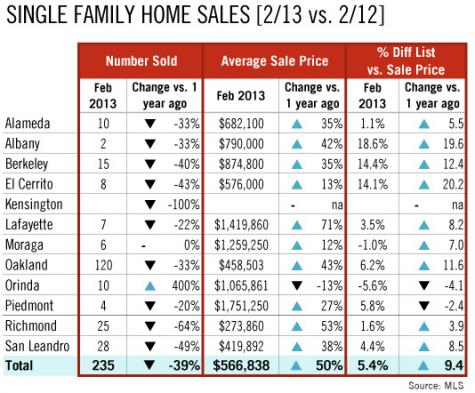 So far in the Berkeley/Oakland area of the East Bay the early spring 2013 market has felt like all extremes: if you have listings you're a champ. If you're representing buyers, you're a chump. Buyers are facing extreme competition on the most popular homes. We hear lots of reports of non-contingent offers, Â all-cash offers, and some homes selling for shockingly high numbers. Â We thought we had a tight market last fall. So far the 2013 market has fewer properties than a year ago, and there is more demand. The February numbers are discouraging for buyers, with average sales prices up for the area by 50% from February last year. So should they wait to purchase a home in our area? My answer is "No." Here's why.
The stories are always about the extremes, and there have been some amazing stories lately. Just a few examples:
An historic North Berkeley home near amenities (and lots of noise) sold $500K (38%) over list price in an all-cash sale. And the buyers agreed to assume a tenant.
A home in Rockridge sold last June at list price. The owners had a job change and needed to sell. Listed two weeks ago at the same price as before, it is now in contract for more than $250K (34%)Â more than that price. Nothing in the home itself had changed, only the market!
A vintage home on a coveted street in Elmwood is rumored to be in contract for $400K over list in an all-cash sale after only two days on the market!
It is indeed a tough market for buyers to be sure. But the more "normal" behavior exists as well. It's just not news-worthy!
We shared stories at our office meeting this week of several buyers being the successful bidders with contracts that included contingency periods. I would of course prefer that my buyers be protected by contingencies! More striking was the list of sales for the week. Of  a eighteen sales, three went considerably over list, most sold modestly above list price, one sold at list, and three sold below list price! Remember, list prices are part of a marketing strategy, and not all strategies are the same. Some list prices lately have seemed absurdly low given recent sales data, but some sellers and their agents prefer to list very low to attract a quick buzz.
Affordability is the biggest reason I urge my buyers to tough-out this market. Interest rates will go up; it's not a question of if, but when. (You can read more about that issue in detail in a previous blog post, with data from economist Ken Rosen). Rates have already moved almost half a point from the bottom last year.
Consider this: at current rates (around 3.75%) buyers who can afford to purchase an $800K home will be able to purchase only a $735K home should interest rates rise one point, or only a $640K home if rates rose a full two points, to 5.75%. Historically 7% was a lovely number! Affordability is still very, very good.