Ah, spring! The gardens here in the east bay are looking so gorgeous, and the air is smelling so sweet with the fragrance of iris, roses and the late-blooming wisteria. Is it any surprise that so many people want to move here?!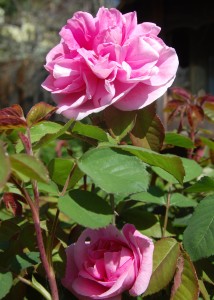 For the sellers the early spring market has also been gorgeous. On average, sellers in the area received more than 6% above their list prices; Berkeley homes closed more than 15% over list. So I am very proud that on both the buyer and seller side, my clients beat the averages! I had buyers who just closed on a wonderful view home above the UC Campus for less than 11% over list in competiton, and a set of Oakland buyers are currently in contract below list price. On the seller side, I must say I am still grinning from the result of my recent listing on Edith. I knew getting it to market quickly was crucial, and I judged correctly that updating the kitchen and giving the property a fresh look would pay big dividends. But even I would not have predicted such an exuberant response: 10 offers, four of them over $800K, and three of them were without any contingencies. The final result was a sale at 30% over lis t price, and a very high price for a property that shows as a 2/1 in public records. Would I have encouraged buyers to write an offer that high? I think I won't answer that question, and will just keep grinning on behalf of my sellers!
After feeling like Queen for a Day, reviewing those 10 lovely offers, it was back to looking at homes through the eyes of my buyers. The market looks different through their eyes for sure! While we are seeing a bit more inventory in the past couple of weeks, the quantity of available homes is still very low. We thought our inventory was low last year, and this past month we had 18% fewer homes on the market than this time a year ago, making this an extremely difficult market for our buyers. And we seem to have a real dearth of options right around the median prices of all of our East Bay cities.  For example, in Berkeley, with a median sales price of $835K, last month there were just 17 Berkeley properties selling within $100K on either side of the median. Right around the median homes were selling 20-22% over list, with $/sq. ft. numbers in the high $500-high $700 range.
Last year at this time buyers were frustrated by the standard of overbidding: it seemed that they routinely needed to offer $100K over almost any list price to succeed. Now in 2014 that amount has jumped to $200K if buyers wish to have a fighting chance, at least on the most desirable properties in the most coveted areas where homes are listed close to $1M: North Berkeley, Rockridge, and now often Kensington as well. I just helped one of my colleagues review offers on a Rockridge listing, and in that case the winning offer was more than $250K and more than 30% over list. And in this case too, the successful offer was without any contingencies. That continues to be a common occurrence.
March Madness for 2014 brought us further changes from last year: we saw more pre-emptive offers. That means that buyers are wanting to jump the queue and offer either before the house is ready for market, or before the sellers have announced they will hear offers. Usually the buyer who does that needs to be willing to pay a considerable premium to succeed. A recent example involved a home in North Berkeley that failed to sell two years ago at $1.25M. Marketed at $1.495M this year, it frankly seemed priced high. However, after just one of the two planned Sunday opens, the sellers received three offers, and is reported to be in contract at $2.1M. But appraissal issues are hitting some of these examples of high over-bidding. Without an appraisal contingency, buyers may be faced with making up the difference between the appraised value and their offer with cash reserves.
We're continuing to see a great deal of cash, but not so much around the medians for each city. I've been seeing all-cash offers for lower priced properties, especially condo sales. And we often see all-cash offers in the higher end. Now that it's possible to refinance fairly quickly after a closed sale, many of those purchases may soon actually involve financing.
Another new record from our March Madness: the first *overbids* that exceeded $1 million! We knew that had happened in San Francisco starting last year, but not here in the East Bay. Last month there were two examples that created quite a buzz. One was a property in Piedmont that sold just over $4M, starting at a list price just under $3M. More striking was a home in the Claremont neighborhood, a large brownshingle property that went 67% over list, and $1,150,000 over list! Those properties both sold in the $900-$1,000/per sq. foot range.
But remember, these are the news-worthy stories. There are still homes selling at, and below, list. Those tend to be the less well-presented homes, ones that begin at too-high prices, or ones with one outstanding flaw. But the ugly ducklings may represent a good value. I always encourage my buyers to consider the ones that the crowds passed over.