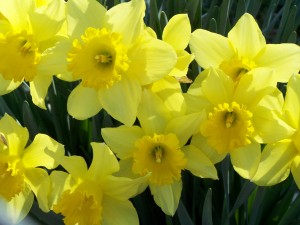 It feels like spring, and daffodils, those harbingers of our new real estate market, are in bloom all around the East Bay. I know lots of properties are being prepared to come on the market, but right now the available homes are very scarce indeed. In all of Berkeley, in a $400K range of prices covering the median, from $800K-$1.2M, there are only FIVE currently available properties. Kensington and Piedmont had only one home sale each during the entire month of January. Berkeley had 19 sales, and that was up from only 12 last January. Buyers need to have faith that every year at this time we lament a lack of inventory, and that it will pick up as the spring emerges.
Affordability will continue to be a major challenge. And buyers who require a loan are under increasing pressures to pay a premium relative to all-cash buyers. I've written two offers during the last two weeks for a set of very well-qualified buyers. These are clients I love to work with: smart, responsive, and accepting of the harsh reality that any contingency in an offer would likely seriously reduce the attractiveness of their offers. They've done everything I could ask…but sadly with their first offer they were the high offer, but lost out to a slightly lower all-cash offer.  Then this week they wrote a gorgeous non-contingent, 40% over list offer on a central Berkeley property (a 2 bedroom/1.5 bath home according to public records) did not rate even a counter offer. That's because this time there were three all-cash offers written at similar prices to theirs. Ironically, the volatility of the stock market has exacerbated this problem, as buyers choose the downturn in stocks as a time to sell-off their portfolios and liquidate, so that they can write all cash offers. It may be a shrewd move, depending on the contents of your portfolio.
All cash offers obviously have the greatest advantage. But if that's not possible, a large down payment can still be a substantial advantage over those putting down  20% or less. Why should that matter? It's about risk–and appraisals. The higher the down payment, the higher the odds that the loan will close without difficulty. That's largely because with a large down payment the bank has less at stake, and the appraisal done on behalf of the bank can be significantly more lenient the larger the amount down. If buyers have 30% down or more, they also will have the cash reserves to  make up any short-fall if the appraisal comes in below contract price. Last year cash offers represented 25-30% of the accepted offers in our area. Will 2016 see a similarly high percentage?