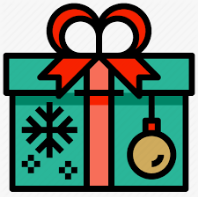 With gift-giving and all of the holiday parties, Americans throw away an estimated 25% more trash between Thanksgiving and New Year's Day than at other times of the year, according to the U.S. Environmental Protection Agency. It adds up to an additional one million tons per week! If crowded malls, tedious travel and impersonal gifts take the fun out of your holidays, give yourself—and the planet—a break by following the "Four R" principles of Refuse, Reduce, Reuse and only then, Recycle.
REFUSE generic, unnecessary, fad-driven presents. Can you take the pledge to Refuse to use mail order sources? They over-package, use tons of single-use plastic, incur a big carbon footprint from shipping and threaten local stores. Instead:
Buy Local – Check your local crafts fairs, Farmer's Markets and specialty food stores for gift ideas that are hand-made and consumable. Examples include herb-flavored hand-pressed olive oils, soaps, delicious edibles, monthly vegetable box subscriptions, handmade accessories, jewelry or photography. This supports the local farmers and craftsmen, as well as reducing vehicle trips to crowded malls and shopping centers.
Give environmentally-friendly gifts that carry a message, such as canvas bags, stainless steel travel mugs or water bottles, or garden tools. A favorite of mine are wax-wraps to use instead of plastic cling film. Many such items  are available at the Ecology Center Store on San Pablo Ave. in Berkeley.
Instead of flying or driving long distances, consider doing online "video visits" for the holidays and the rest of the year. Software is free and downloadable, and there is usually no charge for these video calls, including international ones. Check out and consider committing to a reduction in air travel next year!
REDUCE
Give fewer things, and focus on experiences! Offer an outing to a client, tickets for visits to a museum, sporting event, theater or movie.
Send digital cards rather than paper ones. It takes about 300,000 trees to make the approximately 2.65 billion holiday cards that Americans buy each year. Send free e-cards instead, available from websites such as PunchBowl.com and eGreetings.com, and party invitations from Paperless Post.
Reduce greenhouse gasses during the holidays by buying local. The number of long distance trips (50 miles or more each way) also increases by 54% around the holidays, making it the most energy-intensive time of the year and generating the most greenhouse gases of any 5-week period of the year.
Local specialty food stores like The Cheese Board or Market Hall are always a hit.
Avoid battery-dependent toys or tools, or add rechargeable batteries and a recharger to the gift. Look for solar-powered wind-up toys are still fun!
Give BART or other transit agency tickets to encourage public transportation instead of driving.
Give energy-efficient LEDs as gifts; these will save at least 75% of the energy used by incandescent lights. Also look for the temperature rating (color of the light) on the package, or the base of the lamp to get the right color light for each room. If in doubt, 3100 Kelvin (warm white) is good in all rooms. Lower numbers are warmer, higher numbers are cooler and brighter.
REUSE
Wrap gifts in old maps, comic pages, or use re-usable gift bags or baskets. Use reused ribbons and bows, or decorate with pinecones, holly or other natural materials. You can make your own gift tags using last year's holiday cards or other sturdy paper. I'll be wrapping gifts this year in scraps of wonderful wallpapers.
Bring along your own cloth bag for shopping–that's standard practice now in Berkeley!
RECYCLE
After the holidays, compost cut trees and wreaths. Watch for information from your local public works department for your tree pick-up date.
Save bows and ribbons for future use, or donate them to the Depot for Creative Reuse. Funny how many things our parents and grandparents did to economize are now done in the name of recycling and "creative reuse." Whatever you call it, less waste is a good thing!
Buy Organic – Look for organic cotton or hemp products, such as linens, towels, shirts, socks and other clothes as gifts.
Give consumable gifts such as spices, Fair Trade coffee, teas or chocolates. This supports the economies of countries struggling to be green themselves. Locally produced jams and marmalades are great too.
Gift cards to local businesses support your community and allow your friends to make their own choices.
Invite friends over for a home-cooked meal as a gift, especially if they are elderly or have difficulty cooking for themselves.
Donate money to a charity the recipient cares about, instead of buying something you aren't sure they'll want.
Pretend you're a tourist visiting your own town. Visit a museum or a regional park and take in the local sites. During the holidays, take the time to enjoy what's right in your own backyard! Suggestions include the Berkeley Rose Garden or waterfront parks, a relaxing train trip to Historic Sacramento along the bay's waterfront, or a visit to the Oakland Museum of California by BART. Or even a splurge at a local spa!