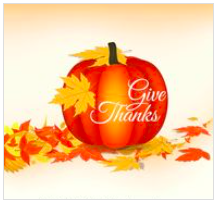 Next week instead of large gatherings with many family members and an enormous roasted bird, lots of us will have just immediate family members at our table. So instead of big production meals, we can focus on what really matters: being part of a community, and giving thanks for the friends, family members and for me, the clients who make my life special! I share some suggestions which I will try to follow as well:
Give a call to someone with whom you have not been in touch since March, or longer. If you've already been through your contact list once, maybe it's time for a second pass! The words "thank you" or "I've missed you" really can be a valuable gift to someone!
Consider making this year's holiday meals special by ordering out:
Order take-away from some of the many local restaurants and caterers that are open, and really need your business to survive this health crisis. Give a call to your favorite restaurant and see what they are offering. You might consider Ann's Catering now provides daily meals and weekend specials to take away at reasonable prices.
Order a pie or cake for either Thanksgiving or other holidays, and deliver it (or have it delivered) to clients or friends. Here's a list of local options.
Support local community services with donations:
There are so many worthy causes that are having a really tough time, and Thanksgiving is a great time to make a donation, or make it in the name of someone you wish to honor. Whether you wish to support the struggling arts, or donate to the food banks which need record donations, or want to help the homeless, your donations will be greatly appreciated. You can help make sure local animals are taken care of by donating to shelters. Through the end of the year you can adopt an animal at the Oakland Zoo. For your animal-loving friends this is a super present and supports our wonderful local facility!
Thank you for being part of my extended community! I truly value your presence in my life!