One of the reasons I donate my time to various non-profit groups is for the opportunity to work together with a group of colleagues on projects that are meaningful to our community. On Friday I got to experience the pure pleasure of those efforts seeing a successful result.
As our Earth Day acknowledgement I organized a free electronics recylcing day at the Berkeley Association of REALTORS on behalf of the GREEN Council of REALTORS that I chair. Those of you who stopped by on Friday to drop of some of your old electronics equipment saw what a great success we had! By noon we had covered the tops of eight conference tables with all manner of no longer-loved items. By 2:30 when the fellows came to start packing it up the room was brimming. Those strong fellows from the Alameda County Computer Resource Center worked extremely hard for more than two hours to sort and load all that we'd collected, and in the end we nearly filled a 24′ truck! Approximately 60 folks made donations, and were given one of our Green Bags as a thank you. People were surprised and pleased to be given the bags, and it was overall a great "feel good" event. So many people left saying: "it feels great to get rid of this stuff!"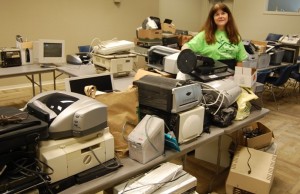 We know that some people had been storing items for years. To get such a good response next year we will need to advertise broadly, and well in advance. But given how smoothly this event went, we are excited about making it our annual Earth Day activity! If you missed out this year, we'll be happy to accept your items next year!
Don't want to wait that long? The good folks at the ACCRC are located at 620 Page Street, and are open each weekday to receive your offerings of electronics and small appliances.