On this of all days, we celebrate the simple joys of life: heirloom tomatoes, cling peaches, blackberries, sweet corn. . . . and community. Visiting a farmers' market provides the pleasures of top-quality products with the added satisfaction of talking with the vendors, hearing their stories and details about their products. The aromas and the sounds are vibrant. You feel part of a community, rather than just being an isolated shopper.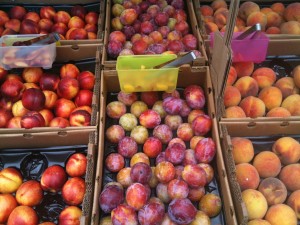 One of my favorite ways to spend time on a Sunday morning, before heading off for an open house, is to visit the Kensington Farmers Market. It's small but has everything I usually want: great coffee from Catahoula (I use their Butkus or Lola for espresso). There are always several great fruit and veggie options. And this past week I enjoyed speaking with two vendors in particular: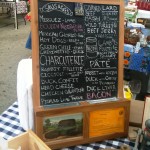 For the carnivores among us, Fifth Quarter was selling some intriguing pate, confit and other specialty charcuterie items. I took home some ground duck crepinettes, patties of duck and pork, seasoned with mustard seeds and dried figs. We grilled them and they made lovely, rich burgers.
And for dessert, Ernest, from Miz Lynn's Pies was a delight, living up to his name! He was generous with his samples of a delish strawberry custard tart as well as sweet potato, and shared that he had grown up in the immediate area. This marke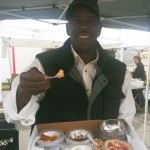 t is the only East Bay location where you can obtain these delectable pies. Great tag line: "Where there's a Miz Lynn's, everyone wants a piece of the pie!" Check them out at mizlynnspies.com
Tomorrow there will be live music from Suska Varda, and as a special treat you'll be able to get wood-fired pizza from Fist of Flour. What a gentle and yummy way to spend some time on this on Sept. 11th.