This past quarter we experienced a sense of low inventory, and insufficient quality listings to meet demand in certain price points. The $750 – $1M range felt especially limited. This quarter 322 single family homes were available, which is 38 fewer than last year, but actually 20 or so more than in 2009 or 2008.
Why then did it feel like we had such low inventory? In the real estate industry we deal to a large degree with perception, and the perception has been that no one is getting what they want. Despite gorgeous interest rates, buyers are not particularly  motivated–they are still waiting for "bargains."  There continues to be a considerable disparity between the well-priced, well-presented homes which sell on schedule, often with two or three offers, and homes with some flaw in the minds of buyers. If not priced properly, homes with flaws, or those needing work can sit for weeks. Sellers compare current prices to those at the peak of the market in 2007. Some sellers are concerned about the existence of distressed properties in their neighborhoods which pull down median prices, even though we have many fewer than most California communities. On balance, our market remains much stronger than most parts of the state or the country.
Berkeley City-wide, this third quarter saw median sold prices just slightly higher than a year ago at $668,500, and down 11% from three years ago. For the second quarter sold prices exceeded list prices, with the median for sale being $634,000. Activity remained almost identical at 136 properties sold, but from a somewhat lower inventory (322 this year vs. 360 last year, which was a quarterly high). Days on Market remained right around one month.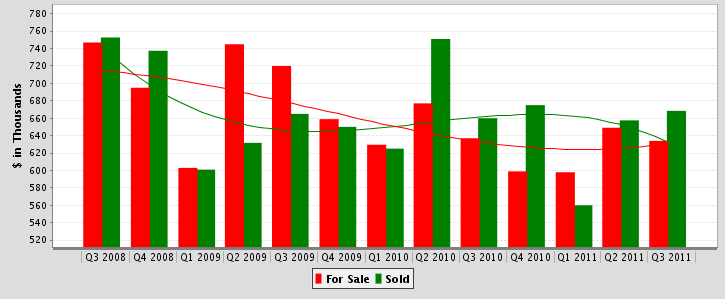 In North Berkeley (94707) inventory actually is down this quarter from this time last year, with 66 single family homes available vs. 80 in 2010. However, more of them sold: 35 sold this year, vs. 27 last year. It's taking a bit longer to sell this year: 39 days vs. only 26 last year.  Interestingly, the median LIST price is down from last year, but the median SOLD price is up 20% from a year ago to $801,000, though down 7% from three years ago. Sold prices have seen a steady rise over the course of this year.