A wonderful civic landmark, and Berkeley's first public work of art, Â the fountain at the Arlington Circle, celebrates 100 years this Sunday, Oct. 16th. A birthday party will be held in honor of the four bear cubs and their fountain from 2-4. Originally part of the civic improvements aimed to help Berkeley become the state capitol, the fountain today is a much-loved source of civic pride.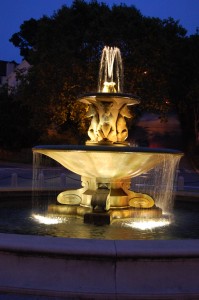 I remember the fantastic party that was held when the new bears were unveiled in 1996, replicas of the original bears designed by Arthur Putnam as part of the overall design by John Galen Howard. That September day the city brought out their vintage fire truck, cookies in the shape of bears were distributed, and a huge crowd assembled for the unveiling.  The tremendous work of the Friends of the Fountain and Walk restored to Berkeley a lovely centerpiece that had been destroyed in 1958. Since then, Sara Holmes with the help of her husband Harvard has been a fierce protector of those bears, the ballustrade, the grass and the functioning of the fountain. I often see her consulting with City workers, or cleaning up the circle. Hats off to you Sara, and to our wonderful Berkeley bears!
Our local City Councilmember, Laurie Capitelli, will be on hand and sweets and drinks will be served.
For more about the Fountain and the party, visit their site.