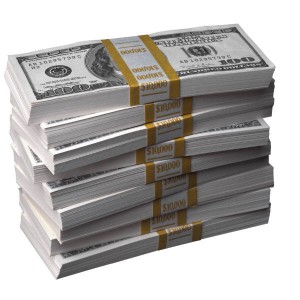 A few weeks ago I tracked three properties that closed escrow in my East Bay area. Â One closed around $500K, one just over $1M and one at $1.5M. One was in North Berkeley, one in the flats of Berkeley and one in Rockridge. They shared two characteristics: all had received more than five offers (one received 19!) and all three were all-cash sales.
Perhaps the most striking aspect of the change in the East Bay real estate market we've seen so far this year is the number of buyers willing to make all-cash offers. Cash has been common in the South Bay and many parts of San Francisco for some time. I've heard a lot of speculation about the main sources of funds there: Â Asian buyers, and money from the latest tech resurgence. Â To see all-cash offers in the East Bay markets of Berkeley, Albany and Oakland, and in all price ranges, is a new aspect to this new market.
So who are these East Bay all-cash buyers? Yes, we do have some foreign investors here as well as high-tech money. But the majority of the all-cash profiles are less exotic. This week I am fortunate to have two sets of all-cash buyers, so I can share their profiles:
Investor buyers exchanging properties. A lovely client who sold a previous investment through me just sold her rental property in another city and needed to buy during her exchange period.
Folks who just don't enjoy working with bank loans. One set of my buyers had a most unfortunate experience in a previous contract on a banked-owned property. That bank treated them poorly, with a lack of information and communication, coupled with high fees. They became "allergic" to banks, and decided to offer cash now, and then consider a refinance at their leisure.
Couples in all age brackets who find the stock market too unstable. I've spoken with quite a few young buyers who cashed out their portfolios, wanting to be as prepared as possible when their perfect first home comes on the market.
Adult children being helped by parents. Doing some family financial planning often shows that having the parent help out the adult kids in their first home purchase is a wise investment for the family as a whole.
People who are quietly wealthy. There's a lot of money in them hills–of both Berkeley and Oakland. There's a lot of  "old money" as well as families that are modest in their appearance, but represent some significant wealth.
With interest rates at historic lows, one might assume that even well-heeled buyers would still want to leverage their money. The reasons for all-cash offers are numerous:
All-cash offers have a tremendous advantage in their ability to be closed quickly. All cash deals can close escrow within just a few days. The only consistent requirement is a title report.
Loans are where most of the snags occur in transactions, so eliminating the bank eliminates most of the hang-ups.
No lender generally also means no appraisal, and appraisals have become an increasingly difficult aspect of transactions.
Buyers like to limit their monthly burden. Paying cash means you don't have a large monthly obligation.  You must have the additional resources to pay taxes and insurance, but that's about all. With jobs still uncertain, that is an attractive prospect for many buyers.
When banks tightened their requirements they made it difficult to refinance within six months of a purchase.  That has  now changed. With waiting periods eliminated, a reasonable number of buyers are purchasing using cash, and then taking their time to shop for the ideal refinance terms.
A few years ago a new client of mine arrived in this area from a slower market with cash in hand from the sale of their former home. He assumed that cash would be "king," and that he could expect a nice discount as a result of his superior position. Perhaps that might have worked in areas where properties were not otherwise selling. He asked me to present an all-cash offer at below list price on a popular house with several other offers, against my recommendation. He quickly learned that his offer would be wearing a crown only if it was clean and competitive in all other ways. That is the lesson that the many cash buyers are having to learn in this market.
I have heard numerous recent cases of sellers asking the all-cash buyer to meet the price of a non-cash offer, enabling the seller to have the best of all possible terms. Â And with so much cash in the market, a cash buyer shouldn't be surprised to compete against another cash buyer if the home is especially attractive. Cash may be King, but there is a lot of royalty in the market right now!