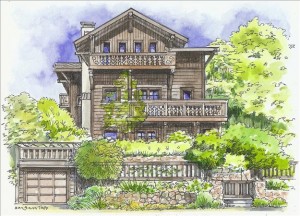 If your heart skips a beat at the sight of gorgeous original redwood, period fixtures and carefully crafted upgrades, then take advantage of some special open homes in Berkeley tomorrow, Sunday the 16th:
A truly special Berkeley home, both for its architecture and its provenance, is 1325 Arch Street. This four bedroom, four+ bathroom home was was designed for the Schneider family in 1907 by Bernard Maybeck and his brother-in-law, John White. The original garden was designed by John McLaren, who also designed Golden Gate Park. It was later purchased by Alfred Kroeber, the first Professor of Anthropology at UC Berkeley, of Ishi fame. He raised two children here, one of whom was the writer Ursula LeGuin.
The home is distinguished by multiple carved balconies on two levels, and both vertical and horizontal board-and-batten siding. Nine-foot ceilings and redwood board-and-batten walls make it a strong interior statement. French doors and the multiple balconies connect the exterior to lovely garden views, as well as views of the bay. The roof is short on the uphill side, long on the downhill side, which echoes the nature of the relatively steep lot. The home has been tastefully updated and maintained, including the addition of a tasteful iron hand rail system. Among the charming and unusual original details are the exposed copper nails used in the handrails and newel posts of the interior stair well. Listed byAlohaBayproperties for $1.7M, it will be open from 2-4:30 pm.
While you're in the neighborhood, I hope you'll stop by for a visit just a couple of blocks away at 2322 Rose Street. Also built in 1907, this is a more modest home, but also features redwood board-and-batten walls and a charming clinker brick fireplace in the master suite. This three bedroom, one+ bath home occupies over 2200 sq. ft. and is a relative bargain in this hot autumn market, now listed at $820,000.  I can say that without bias, as this home is listed by the Long/Cordeiro team, colleagues at Red Oak Realty. It will be my pleasure to be there from 2-4:30 pm tomorrow.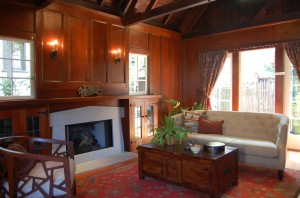 And in decreasing order of size, but don't miss  a hidden gem at 2370 Hilgard! And I do mean hidden, down an unassuming driveway between two mundane buildings, you find this small treasure. Built in 1930, but meticulously and tastefully updated by the current owner, this home is a perfect island of charm and calm, quite near the UC Campus. Includes a tastefully updated bath and kitchen, lovely beams, copper gutters, restored original woodwork in addition to modern additions. On a small lot, but with space for a hot tub and fountain. Listed by a long-time friend and colleague Norah Brower for $665,000, open from 2-5 pm.