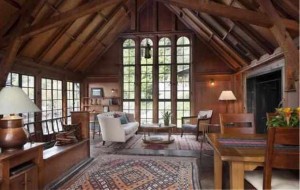 A very special property will be open for viewing on Sunday Feb. 10th from 2-5 pm. 2751 Buena Vista, the Wallen Maybeck House, was designed by Bernard Maybeck, and specifically it was designed as part of the Maybeck family compound, built for his son Wallen. Here he and his wife Jacomena raised their twin daughters, the inspiration for "Maybeck Twin Drive." This home is located at the corner of Maybeck Twin and Buena Vista. Three bedrooms are downstairs, and now an original bathroom has been updated, and a master bathroom added. The entire lower floor is made of knotty pine, and features charming industrial metal windows that Maybeck popularized after the 1923 fire. The upstairs is essentially a great hall with cathedral ceiling and twinned arched windows at either end. A modest galley kitchen opens to a deck with views of both the hills and San Francisco. There is also a separate pottery studio where Jacomena worked for many years. Fair warning that this open home is likely to attract outrageous attention, and parking is always limited. I'd suggest going during the last hour. The property is scheduled also to be open on Sunday, February 17th. Â The home is listed by Norah Brower of Pacific Union.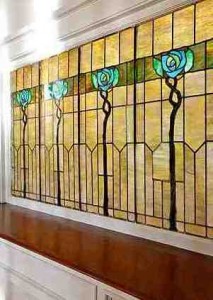 You might also enjoy touring a grand fixer in Thousand Oaks at 597 Santa Clara. It was designed by Herbert Chivers, the only home he designed in this area. The home occupies almost 5K square feet and sits on a triple lot with an impressive semi-circular driveway. All of the rooms are on a grand scale! The property has been in the same family since 1955. It was featured in BAHA's "41 Berkeley Walking Tours" and features a truly wonderful leaded glass window between the ground and second floors. There is a substantial pest bid (over $80K) and updating of baths and kitchen will be in order. Perhaps the greatest challenge for this home is that much of the lot wraps around the corner and is in the front of the home–there is essentially no back garden. But it will be a wonderful restoration project for the right buyer. This home is listed by Tricia Swift of Grubb Co.
Do let me know if you'd like to see either of these special homes privately.