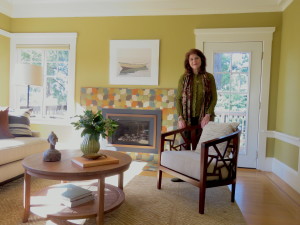 Bringing on a new listing can be tremendously satisfying.  I especially enjoy debuting homes in the spring, as the real estate emerges from dormancy along with flowering bulb and budding trees. Last week I debuted a home that I've come to love ever more each time I spend time there. 2577 Rose Street sits at the top of Rose Walk designed by Bernard Maybeck, and is nestled within a coveted historic neighborhood. You see a combination of filtered Bay and Mt. Tam views, and also handsome tiled roof tops and neighboring brownshingles through the redwoods. This home has a Tudor-revival exterior, with classic Arts & Crafts period mouldings and detailed hardwood floors inside. It is rare in having an attached updated bathroom for each of the three upstairs bedrooms.
My clients were only there 2+ years, but made many tasteful and efficient upgrades in that short time. The kitchen is especially handsome, with custom cabinets and high-end fixtures and finishes. From the dining room you can look out at views of SF while having breakfast! The focal point of the living room is a gas fireplace surrounded by hand-made custom tiles in an earth-tone palette, used throughout the ground floor. The quality of choices made in this home is not what you find when a home has just been prepared for sale. My clients made all of their choices based on their discriminating taste. The buyers will certainly benefit!
2577 Rose will be open Thursday morning March 22, and Sunday March 25th, 2 – 4:30 pm. Stop by and enjoy the views from this sylvan setting! The list price is $1,370,000. Public records will show that my clients paid $1,410,000 in August of 2015, and they have invested in many additional upgrades, including:
High-efficiency furnace and heat pump air conditioning
High-efficiency water heater
Gas insert in fireplace
Induction cooktop
Grey water system captures water from the washing machine for garden use
High-efficiency Energy Star stackable washer/dryer
Extensive attic insulation
They also installed engineered seismic retrofitting, and updated the electrical system. I very much hope that the right buyers are in this market who will appreciate the value and attention to detail of this really special home!