A particularly satisfying part of my job is to use a seller's funds, often quite limited, in the most cost-effective manner possible. And I also enjoy the artistic component of choosing materials that will make a major difference in the appearance of a home. At my latest listing at 68Northampton.com, an elegant Mediterranean in North Berkeley, the transformation from when I first saw the home was truly impressive!
Refinishing floors and paint is almost always an excellent investment, and so it was in the case of this home.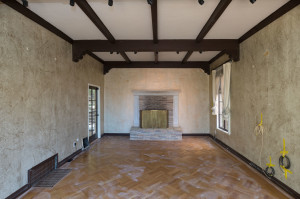 Having started with walls covered in a particularly… intense… copper foil wallpaper, the results were especially dramatic. In the living room I also recommended changing a rather dated addition from the 1980s: flagstone tiles on the fireplace, and replaced them with glass bricks. They had both a contemporary feel coupled with a classic shape. Painting the mantle tied the fireplace in nicely with the period beams in the ceiling
Another dramatic improvement was achieved by bringing a light look to a quite masuline kitchen. North-facing, with all-dark finishes, the kitchen was rather oppressive. Simply removing brown granite, and replacing the counters with a white marble-like quartz, and replacing the backsplash with white subway tiles, the kitchen now feels larger, and much more pleasant!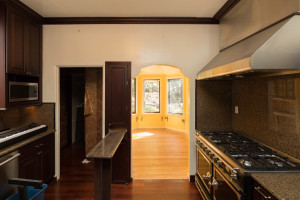 The other area of dramatic change was the master suite. Already an impressive space, it became so much more elegant with white ceilings in the bedroom and bath, rather than the original knotty pine. A consistent color also enhanced the sense of spaciousness. It is wonderfully gratifying to see these transformations emerge.
And now I look forward to the pleasure of watching the reactions of visitors to the home. Stop by and take a look! I'll be there the next two Sundays, April 22 and 29, 2-4:30pm at 68 Northampton, in the North Berkeley 'foothills.'