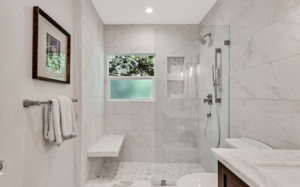 I remember those first days of school when I was kid, when the teachers would always ask us to prepare a report on how we spent our summer. The timing is perfect for me to report how I spent my summer this year, and it was largely preparing a listing for sale. Normally that would not require the lion's share of summer. Being a Leo who just celebrated my birthday last week by taking most of a day off (and realizing how long it had been since I'd done that!) I am aware of just how much time and effort this particular listing demanded. There were two key reasons why this listing was different from most: soon into the project of doing "normal" preparation, like painting, changing out light fixtures and hardware, it became clear that for this home to perform well, the bathroom needed more than the usual refresh. It needed a true, down to the studs reshaping and remodeling. This is NOT normally in my job description! But the alternatives were to try to find a design firm like our Enhance program (already booked out for months), find an architect or designer who was willing to take on this project, knowing it could take months, OR I could try my hand at designing the space working closely with my contractor, and choose all of the materials myself. It's that last function that was really the kicker!
I had a vision of a spa-like, bright space with elegant materials. But we were working within a very limited space. The finished bathroom is less than 10′ deep and less than 6′ wide, and that's after borrowing space from the previous linen closet, and moving the closet from the adjoining bedroom. I knew already that choosing colors is tricky business, but choosing tiles was daunting! Any idea how many variations there are right now in porcelain tile that looks like marble? Hundreds, maybe thousands! Even though I knew I wanted a marble mosaic for the shower floor, that only slightly narrowed the range of options. And of course, my first choice of mosaic was out of stock for months. I became intimately familiar with Pinterest boards for spa showers, and quickly saw differences between designs that seemed to work…and those that just missed the mark. My big design choice was to propose a floating stone bench. I've never seen one in person, but the idea seemed so perfect! My contractor had never designed one, but also got caught up in the challenge, and engaged a welder friend to build three stainless steel braces that will not rust, and can support 500 lbs. of weight. I chose a type of quartzite that blended well with the marble mosaic and played well with the porcelain tiles. It became a bit like choosing wine…was I influenced by the fact that it was called Namib Fantasy?!
After a couple of intense weeks of choosing every item, from the vanity, pulls, toilet, lights, towel bars to the mirror (which Amazon managed to lose…) and about six weeks of destruction, construction and finishing the tiny details, I proudly welcomed colleagues to see this new bathroom, along with the rest of this lovely vintage home at the first in-person brokers' tour I have hosted in a year and a half. It was such a pleasure! You are welcome to come visit 1112 Shattuck Avenue on Sunday the 22nd, or the 29th when I will be open from 2-4:30 pm.
I mentioned that there were two reasons why this listing was different from most for me. The second reason is that it is in my old neighborhood, the tree-lined residential part of upper Shattuck Avenue. Having lived less than a block away for almost 20 years, I feel a deep attachment to this neighborhood, and to some of the folks who are still living on my old block, and the adjoining area. So it means a lot to me to be spending time there, and I have been determined to transform some of the aspects of this home that were less than wonderful when we began. I have been looking back through before photos and yes, I am proud of the differences!
There are many photos, and a detailed description of the prperty at www.1112shattuck.com.  There is also a video I narrated, complete with drone footage of various local destinations. The invitations are out for an understated neighborhood reception, COVID-style with masks and only take-away refreshments. So if you are in North Berkeley on either of the next two Sundays afternoons, or on Thursday evening, August 26, from 5:30 – 7 pm, I would love to have you drop by! Besides a very cool bathroom, this home also has a grand sunken living room, gorgeous mahogany trim in abundance, and custom built-ins by fine furniture maker Paul Biehler that are quite extraordinary. He used not only mahogany, but also wenge and quilted maple in amazing marquetry on the top of the buffet, and even the windows show carefully notched corners to match the details in the built-ins. On the main level there are two bedrooms plus the new bathroom. There's also an au-pair at the lower level that opens to a mini-orchard of fruit trees.
I would normally not recommend to a seller that they bring on a listing during the second half of the month of August, especially as we know that this year a great many people went traveling to make up for lost time. But as wonderful a location as my new Shattuck listing enjoys, I am concerned that a true glut of inventory may appear right after Labor Day. We are all also concerned that there may be even more smoky days ahead, and who knows how that will impact buyer attitudes. The listing is ready now, looks beautiful, and so it's show time! And of course, if you'd enjoy a private showing, just let me know.