My husband and I attended the biggest California event for lovers of all things from the Arts & Crafts movement last weekend in Pasadena. I came away from the house tour with a renewed sense of how fortunate we are here in the East Bay to be able to enjoy exceptional vintage properties! This coming Sunday you'll be able to visit two very special homes. While quite different in both style and neighborhood, visiting either will provide a real architectural treat. Neither are my listings, but should you or your friends find yourselves lusting after either property, I hope you'll give me a call!
In North Berkeley is a gem for lovers of Arts & Crafts homes, and you have the rare opportunity to see a home presented with the sellers' excellent collection of period furnishings and accessories, as well as some of the owner's own paintings. It has all of the features connoisseurs seek: a brown shingle with exceptional clinker brick fireplace in the living room, dining room with leaded-glass built-in and tiled fireplace, box beams,  rich original wainscoting, delightful sun porches with sylvan views.   The kitchen and bathrooms have all been remodeled in period-appropriate style with lovely, high quality details. A deep terraced garden features California natives. 1075 Mariposa, a 3/2.5, approx. 2580 sq. ft. listed for $1,295,000, open from 1 – 4 pm.
Mariposa is one of the exceptional streets of Berkeley, just one block long, and tree-lined. And it's about to become one of two "Halloween Streets" in Berkeley, where the street is blocked off for the evening, and over 1000 visitors enjoy a haunted house and some outstanding carved pumpkins while trick-or-treating. Yes, providing candy for a thousand needs to be a disclosure, but it's great fun as well!
In Piedmont Pines in Oakland you'll find a home that will make lovers of period tiles swoon! It includes three remarkable bathrooms plus fountains and other tile details all from the Moresque Tile Co. of Oakland.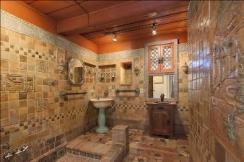 This 1932 property combines Spanish Hacienda style, a log cabin retreat, 40 feet of swimming pool, 60 feet of deck, beamed ceilings, stone fireplace. . . it's wild and wonderful! Described as the "Grateful Dead House" because the infamous group lived there for a time, the gardens are also exotic. 6024 Ascot Drive, 4/3, 3500 sq. ft. on a 17k sq. ft. lot, price just substantially reduced to $1,249,000, open from 2 – 4 pm.
And if you have any interest in the relation between list prices and sales prices right now, I would love to talk with you. For a quick summary, tune in to KNBR 680 this Saturday between 8:30 and 9 am*, and I'll be giving a real estate market update, focusing on the current conditions in our part of the East Bay. And I'm always happy to provide detailed information about the behavior of a particular city or neighborhood, or your own home.
*if you miss the show, please check back here. Next week I'll post a summary of the major topics from the show, as well as links to more detailed analysis of our current market (and IÂ hope to have a link to the podcast as well).